Whippets are a special breed. So are the people who care and raise them. So, what better way to show you understand and admire their dedication with some gifts any whippet owner would love!
Reserved For The Whippet Cushion Cover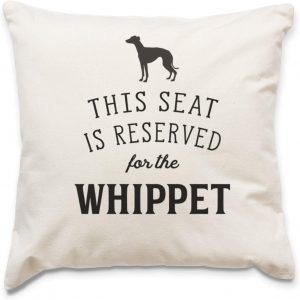 This cushion cover is hilarious and stylish all at the same time. We all know that whippets love to command a seat, so why not roll with it and give them a designated spot with a cushion to match! It's machine washable which makes it highly practical, too.
---
Whippet Ornamental Hanging Bracket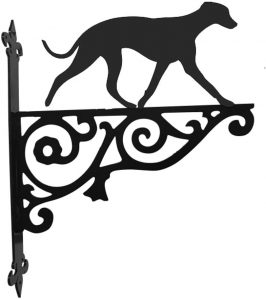 An ideal gift for a whippet owner who also has some garden space/a garage and loves the outdoors! This whippet ornamental hanging bracket is made from high-quality and heavy-duty steel. It has also been finished with powder coating, ensuring it is protected from the elements.
---
Whippet Guide To Training T-Shirt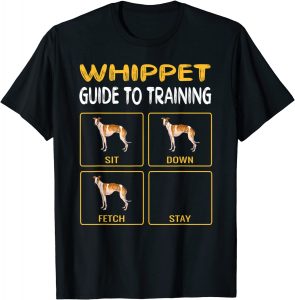 Has a t-shirt ever captured the whippet nature more perfectly? This hilarious gift will be sure to get some laughs. It's available in six different colors from sizes small through to 3XL.
---
Whippet Mum Mug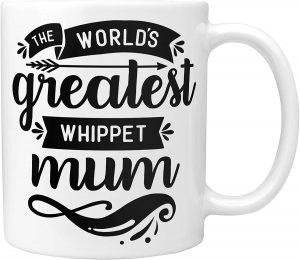 Who doesn't love tea or coffee? We all start our day with a mug (or two). So if you're looking for a gift for a special whippet-loving lady, why not opt for this. Thankfully, it's dishwasher safe too!
---
Whippet Dad Mug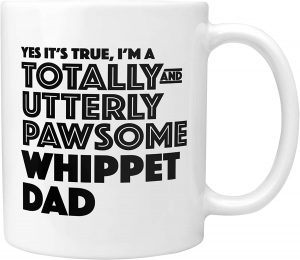 And of course, we need a mug suitable for the dads and lads too. This is the one to get! Again, you'll be pleased to learn it is dishwasher safe, too.
---
Bronze Whippet Sculpture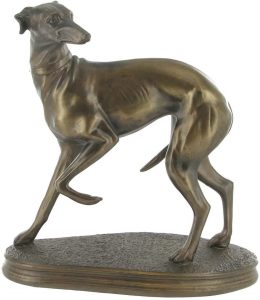 This bronze mount-top whippet sculpture is a great, unique gift for any lover of the breed. It's made from cold cast bronze and stands at 19cm. So whether you want to buy it to serve as an ornament or even use it as a paperweight, it's ideal!
---
---
Crazy Whippet Lady Tote Gym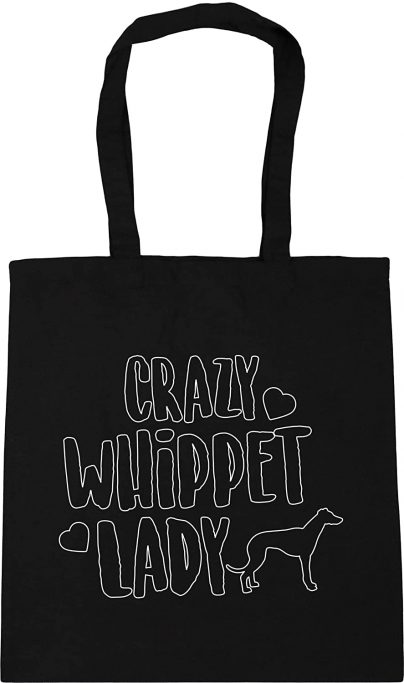 You can never have enough bags, and this one is absolutely ideal for any female whippet owner. It's available in 18 different colors, made from 100% ethically sourced cotton, and is an ideal size. You can use it for shopping, heading down to the beach, or storing all those all-important whippet items (toys, treats, etc).
---
Whippet Floral Pattern Clutch Purse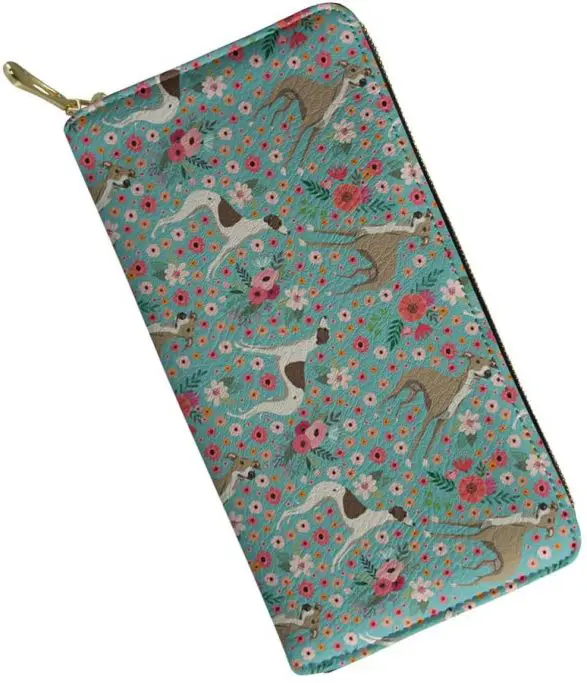 This stunning leather clutch purse makes for the perfect gift. It's colorful, fun and vibrant, and highly practical. It's made of high-quality materials and is lightweight, waterproof, and eco-friendly. You can store 4 credit cards, and it also has 2 larger compartments for cash/receipts or tickets. Plus there is a zipper coin pocket which is incredibly handy. The zip-around design also helps to prevent anything from falling out, too. It is not very expensive either! And most importantly, it features our favorite whippet breed!
Whippet Little Paws Figurine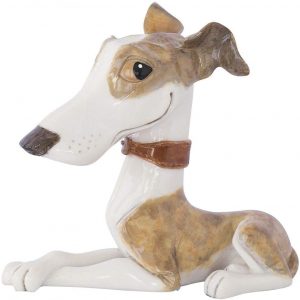 Little Paws create a great set of dog-themed ornaments, and you'll be pleased to know they do one for whippets too! It's cute, funny, and incredibly well-made.
---
A House Is Not A Home Without A Whippet Sign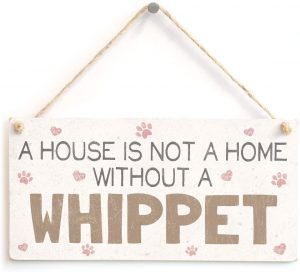 This wooden sign makes for a fantastic home decor gift. This handmade hanging twine is great to hang around the home – it is very versatile and can be placed in any room of the home, looking great hung from doors, drawers, or wall hooks.
---
Custom Whippet Dog Metal Wall Art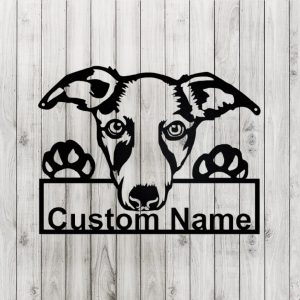 This highly customizable metal wall art, featuring a whippet is perfect for any man cave! It's available in 5 sizes – 8″ through to 16″, and custom-made from high-quality steel metal and hand-polished before it is dispatched. No assembly is required and you can easily hang it from a nail in the wall.
Related Articles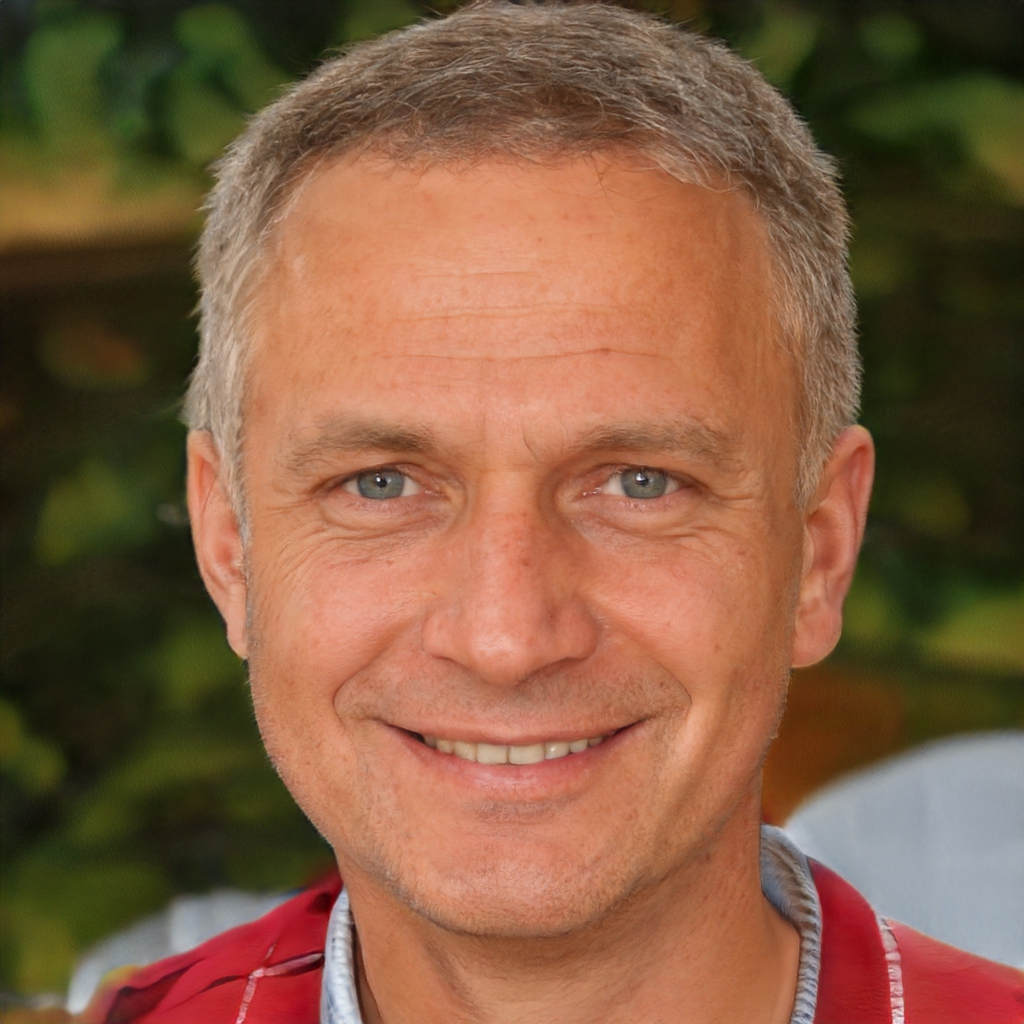 Hello. I'm Luke- the founder of WhippetCentral. I'm somewhat of a whippet nut and have been for most of my life. In that time, I've owned and raised numerous whippets. Bonnie is my latest girl; she is currently eight years old and keeps me very busy! Understanding the need for whippet-specific content, I decided to create this blog to share what I have learned and to share my expertise regarding owning and raising whippets – the right way!