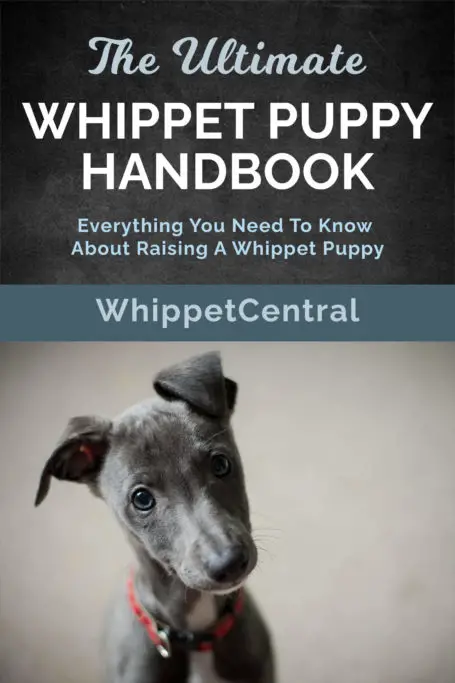 The Whippet Puppy Handbook [100+ Pages]
List Price = $29.99
Current Price = $12.95
Credit card, Paypal, and Apple Pay are supported at checkout.
Please note, this is not a physical book and is an electronic copy only.
---
Bringing home your new adorable whippet puppy is one of the happiest and most exciting times for a new owner. But it can quickly become overwhelming and chaotic at the same time.
Having been through this experience myself, multiple times over.
I decided to create The Ultimate Whippet Puppy Handbook for those that are looking for one resource to answer all of the many questions and concerns you may have.
Here is a list of some of the topics covered in this 100+ page eBook:
All aspects of training a whippet puppy
Feeding a whippet puppy
Whippet puppy health care
Veterinary care and other medical decisions
Puppy proofing your home
Understanding prey drive
Whippet puppy teething
Whippet puppy behaviour problems
Exercising a whippet puppy
There has been no stone left unturned in this eBook as I remember when I brought my first whippet puppy home and searched for a helpful resource online just like this, there was none to be found.
This is the exact book that I would have loved when I first brought my whippet puppy home.
This book extensively covers every aspect of owning a whippet puppy, and how to ensure that they grow into well-behaved, social dogs that are a pleasure to own.
Having been through the whirlwind of emotions myself, as well as the sleepless nights! I want you to avoid these struggles and be confident in your plans ahead to build a relationship with your whippet puppy that you are proud of.
All of this information has been crafted into a helpful book with chapters, images, and practical tips and tricks to help make whippet ownership easier for you.
This eBook will not only save you time, effort, and mental energy, but it will also save you from making bad purchase decisions and preventing expensive medical bills.
Owning a whippet will cost THOUSANDS £$ over the course of their lifetime, and for just a fraction of that cost, you can gain access to The Ultimate Whippet Puppy Handbook which will put you on the right track and save you countless hours of repeating mistakes over and over again, just like I did.
This eBook will give you total peace of mind when it comes to raising your whippet puppy and give you all of the tools and information you need to ensure your pup is a pleasure to own and live with.
---